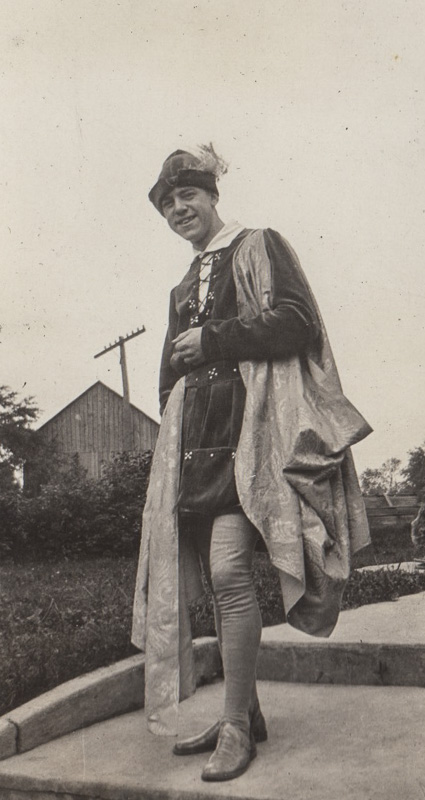 Sometimes a picture tells a story. Sometimes it does it better than words, other times a picture can help the words along. Sometimes a picture only lets you know that a story exists that you will probably never know. Take this photo of my great-uncle Earl Joachim. Since that is not the traditional dress of 1927, which is about when this photo was taken, there is probably an interesting story here that I will never know.
This photo comes from one of the albums I found in my mother's garage a few years back. This particular album is interesting as it's the only one of the bunch that looks like it was put together by my grandfather (and Earl's older brother,) Melvin Joachim. The album covers a couple of years from his time at Heidelberg College in Tiffin, Ohio, where he met his future wife. While a collection of old family photos is great to have, the photos by themselves rarely tell a coherent story. Often, they provide clues for further research, which may or may not pay off. I like this album because it has some journaling – some notes that describe what is going on in the photo or why it is an important photo. The writing, after 90 years, is badly faded in spots, but I have been able to read most of it. Because of the journaling I've learned a few things, like that my grandfather went by the nickname of "Melv", at least at the time the album was put together. I'll be making some posts in the future with some more photos from this album. Sadly, the album doesn't have anything to say about why Uncle Earl is dressed like this.
UPDATE: A couple of my Joachim relatives did know what that photo of Uncle Earl was about. He enjoyed acting, and was appearing in a production of The Merchant of Venice. He eventually married Helen Stein, and they were both active in the Wadsworth Footlighters.