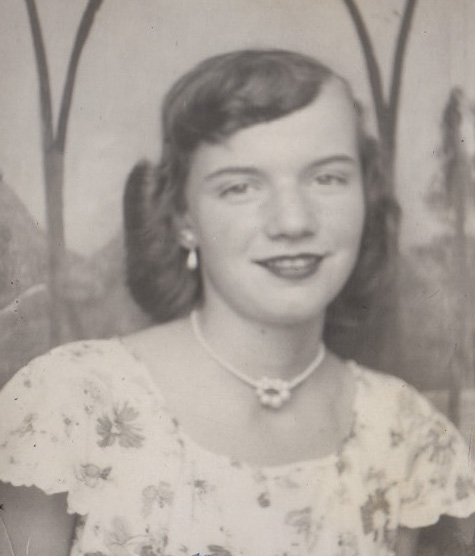 Twyla Baker, my mother, passed away on Jun 27th, 2019 in Grand Rapids, Michigan. She was 85 years old.
Mom was born in December 1933, and was the second daughter of Melvin and Gail (Joachim) Patterson. Her parents and her siblings, Dolores, Layton and Lyndon, have already passed on. As her father was a Presbyterian minister and her mother was a church organist and choir director, she grew up in the church, and loved to attend services. Many of the photos I have of her as a child were taken at church activities.
She attended Heidelberg College in Tiffin, OH, the same school her mother attended. She earned a degree in teaching, and worked as a teacher briefly. She met her future husband, Robert Baker, at Heidelberg, and were married soon after they graduated in 1956. They had four children: Stephen (me!), Kevin, Daniel and Andrew.
Our parents marriage was a rocky one, and they divorced in 1977. During this time, Mom went back to school to become an accountant, earning a degree from Aquinas College in Grand Rapids, MI.
Mom remarried in 1978, to Richard Dennis. Sadly, that marriage also did not go well, and they divorced in 1986. Soon after that, she was laid off from the company where she had worked as an accountant for many years, and accounting jobs in Grand Rapids proved hard to find. She moved to Las Vegas, NV to work with her brother, Lyndon. Unfortunately, Lyndon passed away suddenly soon after she moved there. However, she stayed in the area and lived there for several years.
In 2003, her health began to fail, and she moved to Tucson, AZ to live near me and my family. We enjoyed having her there, and she got to spend time with some of her grandchildren and great-grandchildren. While living there, she developed an interest in art, taking up watercoloring and Zentangling.
Eventually, Mom decided to move back to Grand Rapids, as she still had two sons and more grandchildren and great-grandchildren there. She remained there until she passed away last week.
I have a large number of old family photos from Mom's side of the family. I found them in her garage in Las Vegas, and started looking through them. There were photos going back to pretty much when photography was invented! These photos are what sparked my interest in Genealogy and led, eventually, to this web site.
I like looking through these and seeing my mother any other relatives enjoying their lives. I have posted a few pictures below, and more can be found near the bottom of her page on this site. I still have thousands more photos to scan, so the number of photos on that page will continue to grow.
Mom loved music. She played the french horn in high school and college. I played that same french horn in high school band.
Goodbye, Mom. I miss you.